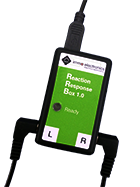 The Reaction Response Box (RRB) is the hardware you need if you want to measure reaction time with accuracy, without having to struggle with PC drivers.
The RRB doesn't need dedicated drivers, it is just a plug&play device!
The Economy version suits the requirements of almost every user, it implements all the basic features required.
NEW
To avoid to distract your patient, the status LED can be configured to be on or off during the normal operation.
Price:
CHF
249
.-
This package includes:
RRB economy hardware box
mini-USB cable
PC configuration software
Documentation
No button is included.
Please contact us to check stock availability or request a quote for custom purchases.
All prices are provided in Swiss Francs, do not include shipping costs and are subject to change without notification.
Our products are already successfully in use at the Bern University:
"At the University of Bern, Department of Developmental Psychology, the Reaction Response Box (RRB) are in use for experimental work concerning the cognitive development of children in the age range of 3 to 12 years. There, between 400 and 800 children a year are tested with computerized tasks measuring among other psychological constructs their attention and/or their working memory."
Bern University, Department of Psychology
A big thank you for the collaboration to: